North Sister, S Ridge, July 2004
Well, one more down of the 16 major northwest peaks, and the last of the majors in Oregon I had left to climb - N. Sister. After getting tantalizingly close last year, topping out on the northern Glisan Pinnacle, only to find the northwest shoulder of Prouty Pinnacle a frightening stack of dinner plates, and the east face an intimidating, outsloping two-pitch climb and double-rope rappel, I was anxious to do it by the standard route this year and actually summit. It indeed was easier, but in the conditions we encountered, easily the hardest alpine climb I've led. The team ended up being Rik Larsen, David Goodwin, Russ Kelley, and myself - a good team, despite Steve Schmitt having to cancel at the last minute.
The weather was a question right up to Friday, and as it turned out, our decision to wait to climb until Sunday saved the climb - we arrived in camp Saturday evening to 15mph winds in camp and clearly 30+ on the summit, with clouds banked up and spilling over from the west.
As our camp was directly below the SE ridge, we looked at this approach, wondering if it might be a more direct path tp where it joins the SW ridge at the Camel's Hump. After I scoped it a while, I concluded that it appeared to present technical problems greater than we were expecting on the standard SW ridge route, and that we should only try it if it looked like the SW ridge was going to have worse wind and cloud conditions. On the climb we saw even worse difficulties on the SE ridge, so I'm glad we didn't attempt it. Even more glad that the wind died down late in the evening.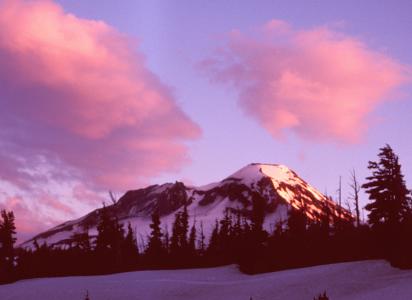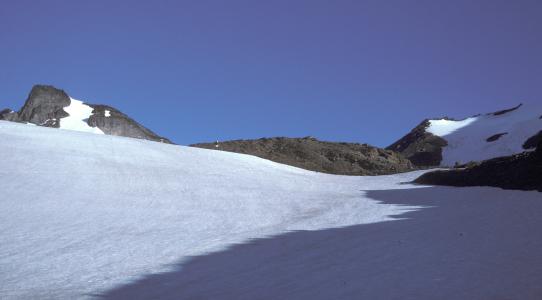 We awoke about 3:15 to clear, calm skies, and got out of camp just 10 minutes behind schedule, at 4:40, just as there was enough light to climb without headlamps. I managed to be the last one in line, messing with my skis, and as a result wasn't up in front to argue again for my preferred route of trending south until we caught the north edge of the Hayden Glacier. As a result, we quickly trapped ourselves in a dead-end valley, and had to zigzag back to cross a ridge and regain the right route up the snowfields.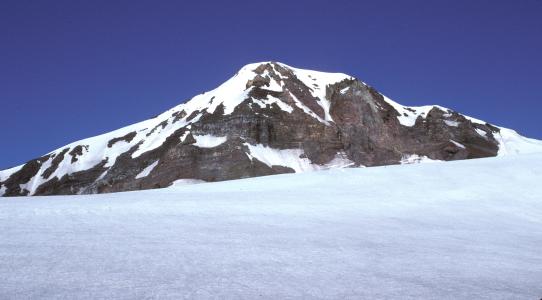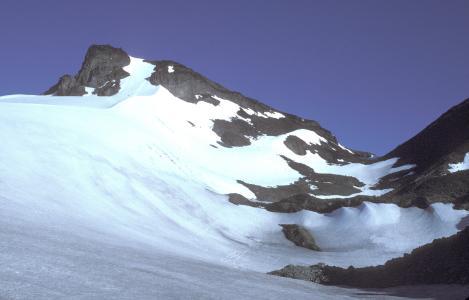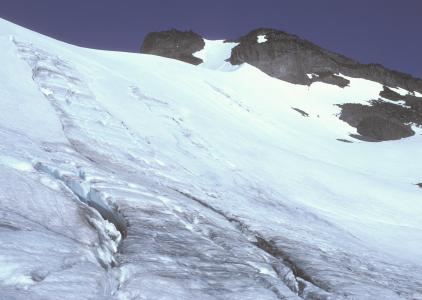 Despite this detour, we gained the North-Middle saddle at 8AM, just an hour behind schedule. We scoped the snowfield on the south face, but decided that it was steep enough that it would require pickets and probably couldn't be glissaded - or skied by me. Too bad, it would have been more fun than slipsliding up the base of the ridge.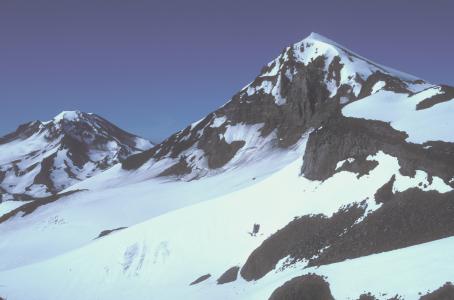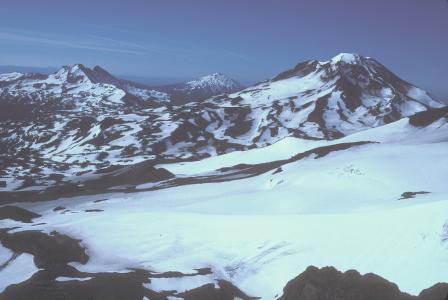 Unfortunately, Rik reported that he was losing his battle with the sausage patty, and had to head down. I stashed my skis, and after a short break and map consulation we correctly walked around to the west shoulder of the ridge, and quickly gained the ridgetop. Only a couple of minor arguments with gendarms and careful traversing around the west side of a pinnacle slowed our progress to the first major difficulty - an exposed traverse on a steep, soft, east-facing snowbank below a second pinnacle.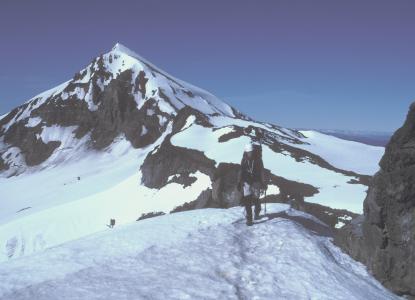 Roping up, we quickly regained the ridge and setup for an exposed, steep west-side snowfield. I placed all 6 pickets as we traversed, then looked up at a gully and across at the base of another. Russ arrived, and awakened my hazy brain to the fact that the traverse we had just made WAS the main traverse below Prouty pinnacle, and this was the Bowling Alley, and the first pinnacle WAS the Camel's Hump! A good thing too, because by now it was 12:30 (1?) and I had decided that we had to turn around in an hour in order to break camp and find the trail before dark. So, we could actually make the summit - if we hurried.
But hurry wasn't easily managed, as the Bowling Alley was completely snowed up. Instead of rock pro, I ended up placing three pickets and one ice screw. I considered taking the left side of the gully, but it was too snowed up, but by then I'd placed the screw too far left and was forced to traverse across a patch of 50-degree hard water ice, with no gloves and one ice axe. Grabbing flakes of ice with my bare hand, I wished I had more experience with front-pointing, and was very thankful for the bomber ice screw. After a minute of stuckness and fading grip, I managed to find a non-portable hold on the rock face and exit to the rock and a rappel station.
I belayed David and Russ up, and Russ led on up another 20 feet to the ridgetop, where we could rap with our 60-meter ropes from another station. Another party of three behind us soloed the Bowling Alley (as they did the whole climb) and passed us. Fast, yes, but no way a risk I would ever contemplate.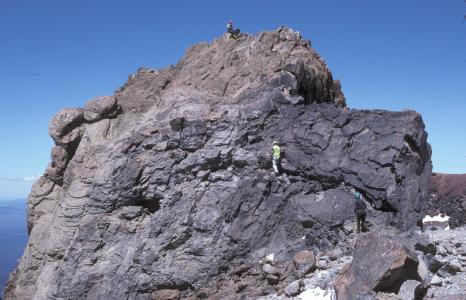 Anyway, I led on up to the summit, placing one sling on the easy, solid rock, and we all were on top at 2 PM, in light breezes and perfect temps. What a great day! But no time to dawdle for long. A few pictures and snacks and we returned to the rap station. We fumbled a moment adding a sling to the station, suddenly remembering as our rap ring fell off our sling that you can't girth-hitch a sling on a rap ring - which is exactly how the existing sling was set up!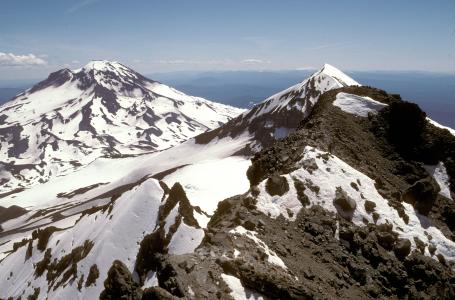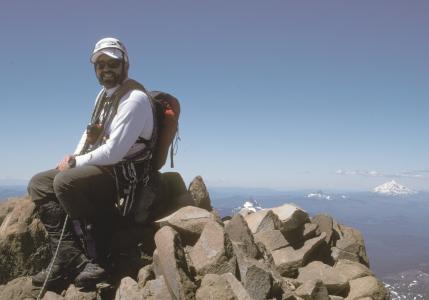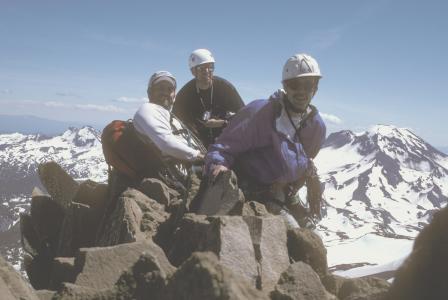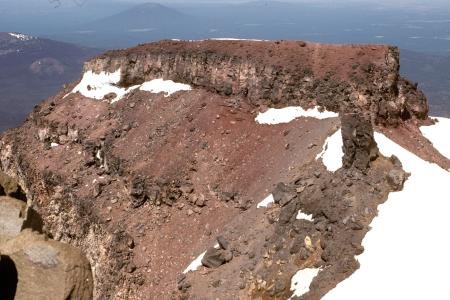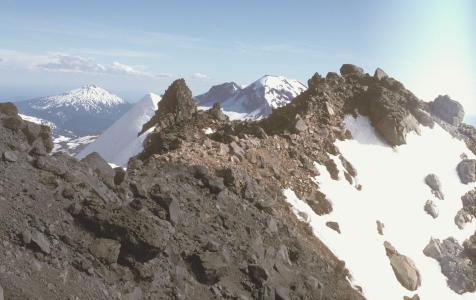 The rap was quick and easy, except we noticed that it was hard to pull up the ropes - and impossible to pull them from below - I had to prussik up 20 feet and left and was just able to pull them, then carefully downclimb with my prussik on only one line to finish the pull. Only 20 minutes lost, but now it was 3:30 (4?) and time was flying.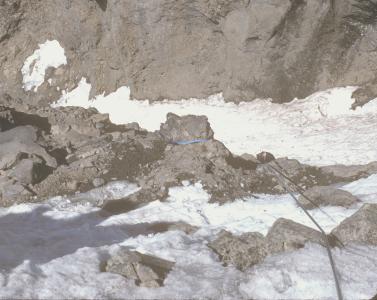 We were back across the traverse in softening but still stable snow, and continued simulclimbing back past the east-side snowfield. Repacking the gear we left there, we started down the scree below the ridge at 5:30. Because David had a few scary moments on the steep, semi-loose scree (avoid the red stuff!), Russ got down ahead of us and headed on back to camp. David and I finally glissaded a steep tonguee of snow and were down on the Collier Glacier at 7:30.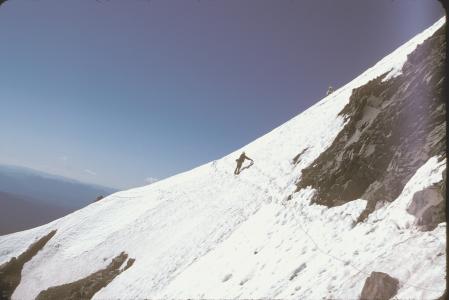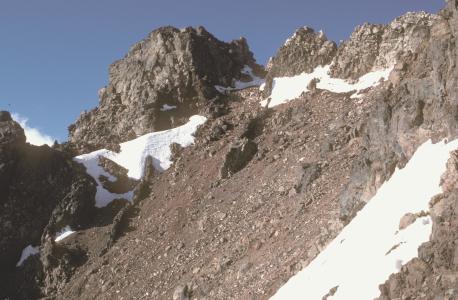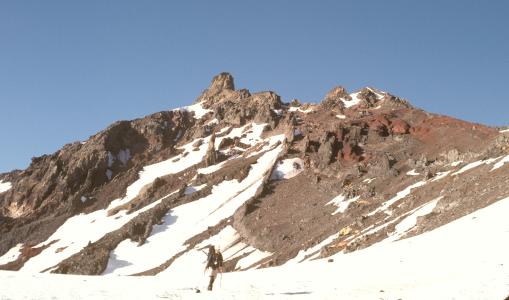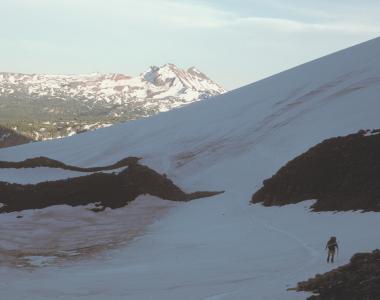 I then had the shock of the weekend - got back to the saddle, and my skis were gone! At first I couldn't believe it. We descended 200 feet, noticing an erratic ski track that ended abruptly. Nope, I really did leave my skis above - did I just miss them? I send David on back to camp and hiked back up. Sure enough, I remembered exactly where I had left them and tkey had indeed been stolen. I can't image anyone else had been there except the other two teams that had climbed N. Sister that day. So, we ended up drifting back to camp one by one, myself the last at 8:30, after a few minutes wandering around looking for landmarks to the camp. Thank you, Rick and wands!
The others had wisely broken camp and packed, so I wolfed down random food, changed shoes and socks, repacked, and we set off at 9PM. We found our flag/wand line, and managed to collect 6 flags before we lost the line in the dark. As we wandered down northeast, we exchanged notes and debated our options. North to the creek and a known climbers trail? East to the main trail? Stop and camp - here or back up higher?). Rik and I were fairly sure of our position, just a couple hundred feet above the trail, so we won the others over and continued down. Minutes later Russ found the trail in the snow. Now it was just putting one foot in front of the other (by now, much easier said than done!) until we arrived at the cars at 12:30.
It was a rewarding climb, but tough, with lots of ugly scree work. I probably won't repeat it soon...
Prospectus:
The team:
Steve Schmitt , 699-8246 (H&Em) 885-9392x111 (W) Glenn Widener , 246-8183 (H&Em) 885-9392x112 (W) Ulrik Larsen , 360-699-2389 (H) 414.771-2682 (E) Russ Kelley 503-618-8142 (H) 503-307-8902 cell David Goodwin , 690-6126 (H) 671-4531 (W) 616-375-9399 (Em)
Driving:
I-5 to Salem, take the Santiam Hwy past Detroit Lake and Santiam Pass to the west edge of Sisters. Take McKenzie Hwy #242 west 1.6 miles. Turn left on Pole Creek Spring Road FS #15, then #1524 almost 11 miles to a parkeing area at the end of the road. Driving time 3.5 hours from Portland. Someone will stop at the RS in Sisters for permits and beta.
Packin:
2 miles south, past a junction with the around-the-mountains trail, we cross of Soap Creek and take a right fork for a trail that that ends at Camp Lake below South Sister. We exit right about 1.7 miles later, about .4 mi before the crossing of North Fork Squaw Creek, for a climber's path that quickly takes us to timberline, where we start seeking a bare-ground camp with water. Or we hit Squaw Creek and go from there (I lost the trail here on the way out from N. Ridge S Sister, without even any snow for an excuse!) I expect we will be on heavy snow before we leave the trail - I'm taking flagging for below timbeline and a few wands for above so we can be sure to relocate the climber's path on the way out.
Climb Itinerary:
The initial approach goes up a valley between the Hayden Glacier and the south face of North Sister, to the saddle between North and middle. We might folllow the valley or a ridge next to the glacier. We also might have an option of a more direct route up the south face on steep snow, if it looks stable and free of avalache, cornice break, and rockfall danger, that will avoid some scree scrambling and gendarme detouring on the SouthWest ridge. (The SE ridge is also an option that I have less info on, approach leaves the trail sooner and I'm not sure where we could camp with water).
Any way we go, we must traverse around a rock called the Camels' Hump where the two ridges join into one south ridge, then east and west around two more rocks, before we begin a 300 foot traverse of the 45 degreee west face below the north and south horns of Prouty pinnacle. We will rope up somewhere after the joining of the ridges, and place pickets as we traverse - hence we need at least 5 pickets.
Finally, we turn right into a steep gully between the horns of Prouty Pinnacle, the Bowling Alley. Needless to say, hardhats required! Late season it's a rather loose 4th and low 5th-class rock climb, but now I expect it to be snow-filled, possibly some hard meltwater ice. I'm taking a second tool just in case for leading (last year's attempt of the NE shoulder of Prouty was foiled mostly due to inudequate ropes and gear!) We exit right to the saddle between the pinnacles, turn left onto "delightful rock" to the North, highest horn.
We will probably descend the way we came, with a rappel down the bowling alley. Glissade as much as possible - no glacier travel on this climb.
References: Oregon High, Jeff Thomas Geo-Graphics Three Sisters Wildernes Map Topo - I've printed route maps for everyone.