"A week in the Tetons - abbreviated"


July 20-26, 2007
Glenn Widener

Susan, Russ Kelley, and I hatched a plan for a week trip to the Tetons, but Russ got a job so had to back out at the last minute. He suggested we rope in his friend Pete Guagliardo, which we did, and which worked out fine - at least as far as making up a team. Because Pete and Susan wanted to take the full week, and Glenn couldn't but was too desperate to make it happen, Glenn finagled it by booking a plane flight back from Pocatello. It would have worked, too, until Susan fell ill...
The plan:
Leave Portland Friday at 4PM in Pete's car - Passat TDI with a box on top. Get to the border at dark and crash at Farewell bend SP.
Saturday: drive to the park, camp at first big, ugly NP CG (which we did), or stay at the Climber's ranch.
Monday- hike into upper saddle camp in Cascade Canyon (4500 feet). If we start early enough, and have enough energy, do Irene's arete (6p 5.8) on the way in, or Caves Arete (3p 5.4) Probably not Irene's...
Tuesday: Petzoldt-Exum Traverse on Grand Teton, either regular or direct (preferred) on Petzoldt Ridge. Very early start.
Wednesday: If we run out of time on Petzoldt/get weathered off, do Upper Exum. Else pack back down and do Irene's or Nez Perce. Either way, we drop down to camp in Meadows.
Thursday: pack out and drive 2 hrs to Idaho Falls to drop Glenn at the airport for a 6:40 flight. Susan and Pete will probably go to City of Rocks for the weekend.
But things started to go wrong Saturday morning. Susan had what she thought were several spider bites on her legs, but by the time we got to Boise she was feeling terrible. We took her to the ER and she was diagnosed with a rare allergic reaction that is most commonly a response to a strep infection. She got some drugs, and we went on, she felt better for the hike in. But by halfway up the first approach she started to fall apart and spent the next two days dragging around camp without eating hardly anything, as her legs swelled and developed ugly welts. She barely recovered enough to hike out, and has been generally getting worse since coming home - in September she was feeling better but had ugly 2-inch sores on her legs. Many drs, like economists, seem to be having trouble coming to a conclusion. She lost 8 lbs she didn't have to lose.
Anyway, back to the climbing part... What actually transpired:
Sunday - at R/S at 7AM to get in line for permits (there was no line, plenty of sites available in the three middle camp areas. A sign in the window said which camps were open for the next two days). Hiked in to the Platforms by noon (passing two bears within a mile of the trailhead!). With lots of day left and no clouds, we decided to take a shot at Nez Perce. Took a break and shagged gear, Pete and Glenn ran all three packs up to our sites in Meadows (took 45 minutes). Then we started the approach to Direct S. Ridge on Nez Perce (10p 5.7).
We started up the approach to Nez Perce at 1:30PM. 1/3 of the way up, we conferred because time was short, and Susan went back because she was not feeling great and knew she would slow us down. Pete and I decided to give it a shot; I figured we could summit (book time 7.5 hrs) and do the one rap before dark, then pick our way down the descent by headlamp.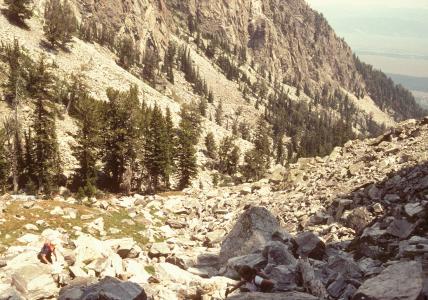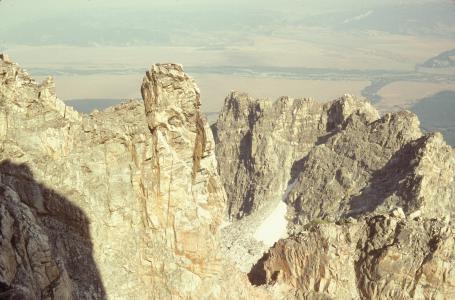 We made the base of the route at about 4pm. Route for the first several pitches is quite clear from the beta, and the climbing is excellent, right on the ridge We drew straws (figuratively) and I started the first pitch. Pro is thin for first 20 feet (one of three hardest sections on the route), otherwise pro is excellent. We belayed pitches 1, 2, and 4, and the short step on 6,otherwise largely simulclimbed, using tieblocks a couple of times.
The only route mistake was on pitch 7,which traverses 200' right (TWICE, unclear from the description), then up; after the first 200 feet Pete headed up into what looked good but turned into 5.7. I lowered him off 10 feet on a nut and he found a 5.6 section which lead to easier ground much like the official route, just a bit to the left.
We topped out exactly on book time at 9PM, feeling great about our first Teton excursion. Pete quickly found the rap station hidden 10 feet down in a tricky slot, and we rapped as darkness fell. We started the traversing descent by headlamp, with tentative route finding down the occasional 5th class move by the occasional cairn. After a while when we had followed intermittent cairns and were still on the ridge, we stopped in confusion.We had two photos showing the descent line that didn't seem to match; one (which were were initially following) seemed to traverse a lot, the other seemed to go down faster. Were we on the descent, or a line of cairns for the ridge traverse? Here was my biggest mistake of the trip revealed - I left the topo map out because we had so much other beta. If I had the map I could have determined that we were in fact on route, that the peak to the east was Cloudveil, not Middle Teton, and we did indeed need to traverse into the large basin. Instead, we followed the second photo and backtracked looking for a way down between steep buttresses. At midnight we called it quits, found a nice alcove and watched the stars wheel by, me in my one emergency bivvy and Pete on the ropes. I'm pretty sure we saw Sue's headlamp at camp...
The next morning we decided that the ridge we were on led down to the top of a large right-trending gully that looked like a clean line down. It was clean halfway, then was full of steep snow and us with no axe/crampons. But we were able to carefully pick our way down the ridge outside the gully, until we found a rap station (only the only possible outcrop anywhere!) that got us to easier rock, then the boulder field. Hmm, seems we weren't the first to get offroute on this descent.
9AM back to camp, to learn that Sue had been eating nothing and throwing up. We were beat, so relaxed in camp trying to figure out what to do next. Sue wasn't getting better - in fact, didn't even feel like hiking out. The next day she felt up to the hike out, so Pete and I decided to try a short climb then come out behind her. We went for the Caves Route, which is next to Irene's but shorter and supposedly only 5.4. No way, at least 5.6 - not counting the the 5.9 off-route first-ascent pitch I did before we managed to traverse right and up and find the actual route start. I got into a hard corner, placed two solid pieces, and inched left on a small ledge, promptly knocking off a precarious 45 lb block that hit the tree Pete was belaying from ("what are you trying to do, kill me?"). After surviving that, we found what was clearly the proper route start at the base of the steepest part of the ridge, just left of the gully that separates it from Irene's. I think the best approach would have been to traverse as often as possible until in the gully. Anyway, we belayed from a small bush about 10 feet up. Pete led a nice pitch into a corner, where I tried and rejected the wide cracks on the right, electing to move up the chimney then out onto a beautiful 5.7- hand crack traverse on the face. Great pitch, one of the best of the trip! By then, though, the clouds were building up and a storm was clearly coming. So Pete quickly took the next pitch, then I led simul up the ridge as quick as we could, placing a tieblock, luckily guessing correctly and finding ledge on the left side of a gendarm that took us easily to the Disppointment Peak plateau, just as the thunder-lightning time went to 4 seconds and 1/4 mile, and a few drops started falling!
We hunkered down in a depression in the low trees for a short shower, and watched the rain roll by in the valley, just missing us (but drenching Susan), then thrashed down the descent gully (ugly). Back on the trail, Pete announced that he was done, I completely agreed, and we quickly hiked out. Good decision, the weather remained damp well into the next day.
Then, the second routefinding error of the trip - Pete went a bit ahead, and (again, sans map) turned left at the 1.5 mile trail junction and hiked 2 miles up to Taggert Lake before another hiker confirmed he was off route. By the time he got back, I had failed to raise Susan on the phone, so hitched a ride up to Coulter Bay where she had earlier reported she was camping. Pete got out maybe 30 minutes later and did the same, and we ran into each other at camp as I was hunting for Susan among 300 campsites.
So, despite a few minor errors, at least Pete and I got a couple of good climbs in. I've got to go back next year and get the Petzoldt; when we told the ranger we intended on doing it, he gave us a big thumbs up - "best route on the S side".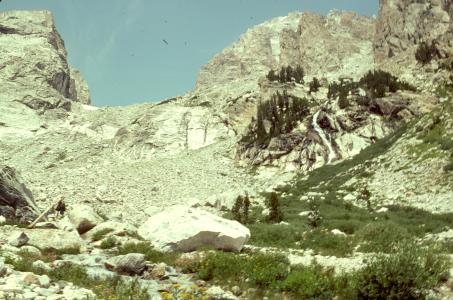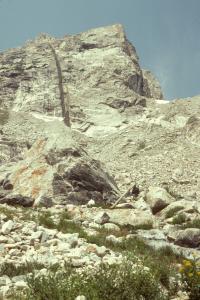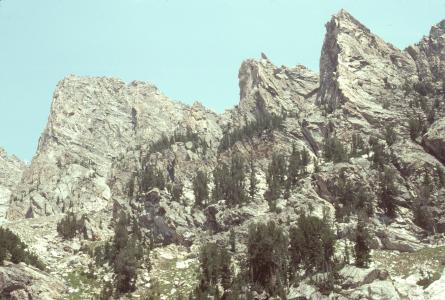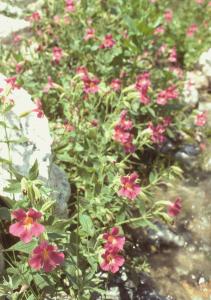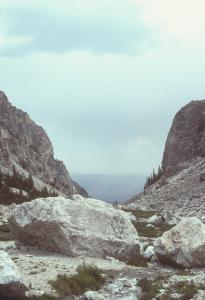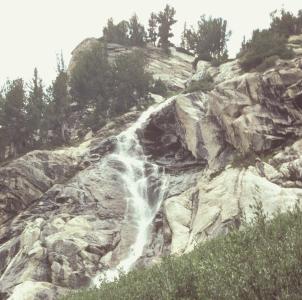 The rest of the photos are still in the Nikon - quality requires analog and patience...