Glacier, Kennedy-Frostbite Ridge, July 12, 1997
Brian and I went on a climb of Glacier Peak, led by one of the more aggressive Mazama leaders, Bob Breivogel. (This is the guy who led us across the ridge of Three Fingered Jack in rime ice!) The crew included three others who had finished Mazamas Advanced Rock and a lesser-experienced climber. Sorry, I have more photos, but ran out of time to scan them in...
Frostbite Ridge is the north ridge of Glacier, with Kennedy Glacier below the ridge to the west. Bob had not done the route before, but from his prospectus and other beta on the straight Kennedy Glacier route it sounded reasonable, with an easier approach than the more popular Sitkum Glacier route to the southwest.
The weather was cloudy and slightly misty when we arrived at the trailhead at 10AM Friday, but forecast to clear that day. We hiked, and waited for signs of clearing, and hiked, and waited, and hiked some more. At 4700 feet the first patches of snow appeared, by 5300 feet it was solid snow. OK, we can put in wands to mark the descent and get close enough to our desired camp above the PCT at 6000 feet.
8 miles and 3500 feet from the car, we made a nice camp on marginally level snow at 6000 feet, ate, and saw a bit of clearing. Surely it will get better overnight. 9PM to midnight we had intermittent mist, light rain. At 3AM, the designated start time - rain resumed, and we postponed until 6AM. Magically, the rain stopped before 6AM, but we had a solid cloud deck above 6700 feet, and no idea what weather lurked above that above. Oh well, it's not raining, so we'll just have to climb up and see. We finally headed out at 7AM, but in a few minutes Brian decided that a groin pain he had developed on the hike in was too much, and returned to camp.
Meanwhile, we threaded our way through small crevasses and rock rubble from Kennedy peak on the lower Kennedy Glacier, and just as we made first contact with Frostbite ridge at around 7800 feet, we broke through the cloud deck into perfect sunshine! Below us, the cloud deck top was perfectly flat, forming a beautiful, wierd line where it intersected the slope. Almost it looked like you could step right out onto it, except we watched as ice we kicked up would roll down and disappear into the cloud.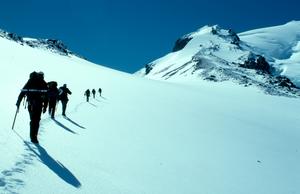 Excitedly, we oriented ourselves, realized we needed to go further up the Kennedy Glacier, and headed out, only to find that we should have put crampons on - Bob's only significant tactical error of the day. 200 feet and 1/2 hour of step cutting later, we found a place flat enough to break out crampons.
Here the climb gets interesting - "steep snow" from Beckey's guide is found to be several pitches at or over 45 degrees, interrupted by a descending pitch of 30-60 degree mixed climbing and a 30 foot traverse on 2-5 foot wide snowed-up ledge. This mixed section was descending off the "rabbit ears", a pair of large gendarmes on the ridge. I manage to twist my previously sprained knee a bit stepping into a hole; it was a bit sore and swollen the remainder of the trip. But otherwise, the route was a lot of fun - as Bob said, not your typical, boring snow slog!
We summited at 4PM, taking 9 hours to do what Beckey said should take 6-8, and descended in the estimated 4 hours. Bob forbade glissading, so it was exhausting plunge-stepping all the way down.
At 9AM the next morning we had perfect mostly sunny weather. We started the hike out in, with the joy of plunge-stepping down 30 degree snow with no warmup and 50 lb packs, only a few steps from camp! We lost 5 minutes by missing one of my bright pink wands not 20 feet from our path in clear view - it happens when you are carefully watching your feet and the previous party's tracks! Next time I will place the wand a mere 3 feet in the correct direction from the apparent descent down the fall line.